CocoRoo Natural SKin Care
Regular price
$19.95 USD
Sale price
$17.95 USD
Unit price
per
Sale
Sold out
Provides all day moisturizing protection that also nourishes and loaded with extra healing power!  Like every part of our body, skin responds to care and attention. Love your body, heal your soul.
CocoRoo Moisturizers are made with virgin cold-pressed coconut oil.  Macadamia nut oil is added for its ability to be absorbed quickly by the skin without leaving a greasy and heavy feeling.  Infused with organic lavender essential oil. Those are literally the only THREE ingredients in CocoRoo's Lost in Lavender.  
Made with Simple & Pure Ingredients - 100% Natural
No Chemicals or added water - No Greenwashing
100% Edible Ingredients 
All oils are cold-pressed
Kid Safe
Vegan Friendly
Cruelty Free
Certified Woman Owned
Made with love & integrity in the USA
Featured on "The Talk" on CBS as a Beauty Must-Have
 Popular uses:
Dry Skin
After sun and sunburn relief
Make-up Remover
Shaving
Oil-pulling
Rough Heels
Dry Elbows
Soften Skin
Deep Hair Mask
Scalp Oil
Itchy Skin Relief
Cracked Lips
Brighten Tattoos
Beard Oil
Massage Oil
Minor cuts & burns
Bug bites
Assist in sleeping
Large 8 oz tube
Ingredients: Organic Virgin Cold-Pressed Coconut Oil, Cold-Pressed Macadamia Nut Oil, Organic Lavender Oil
View full details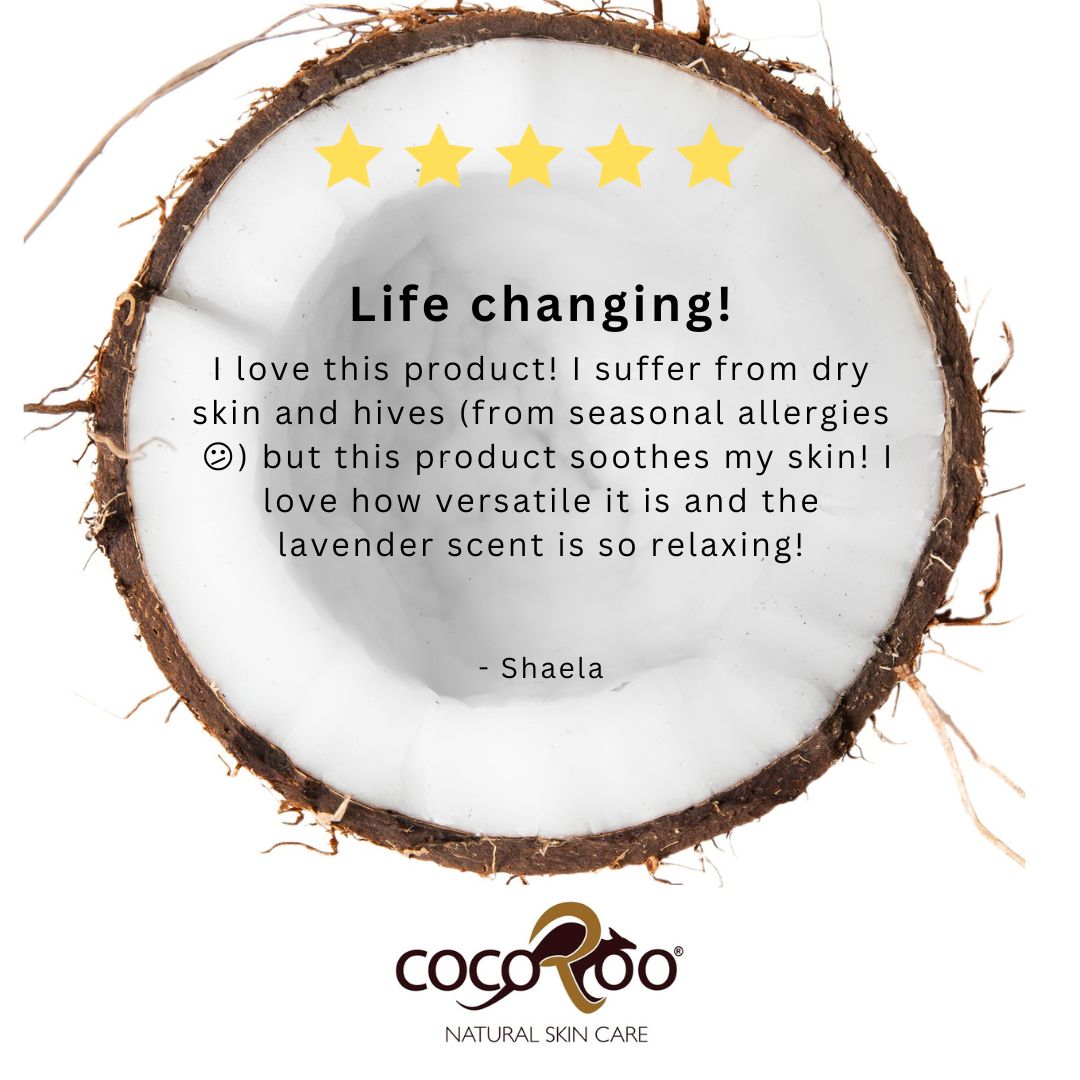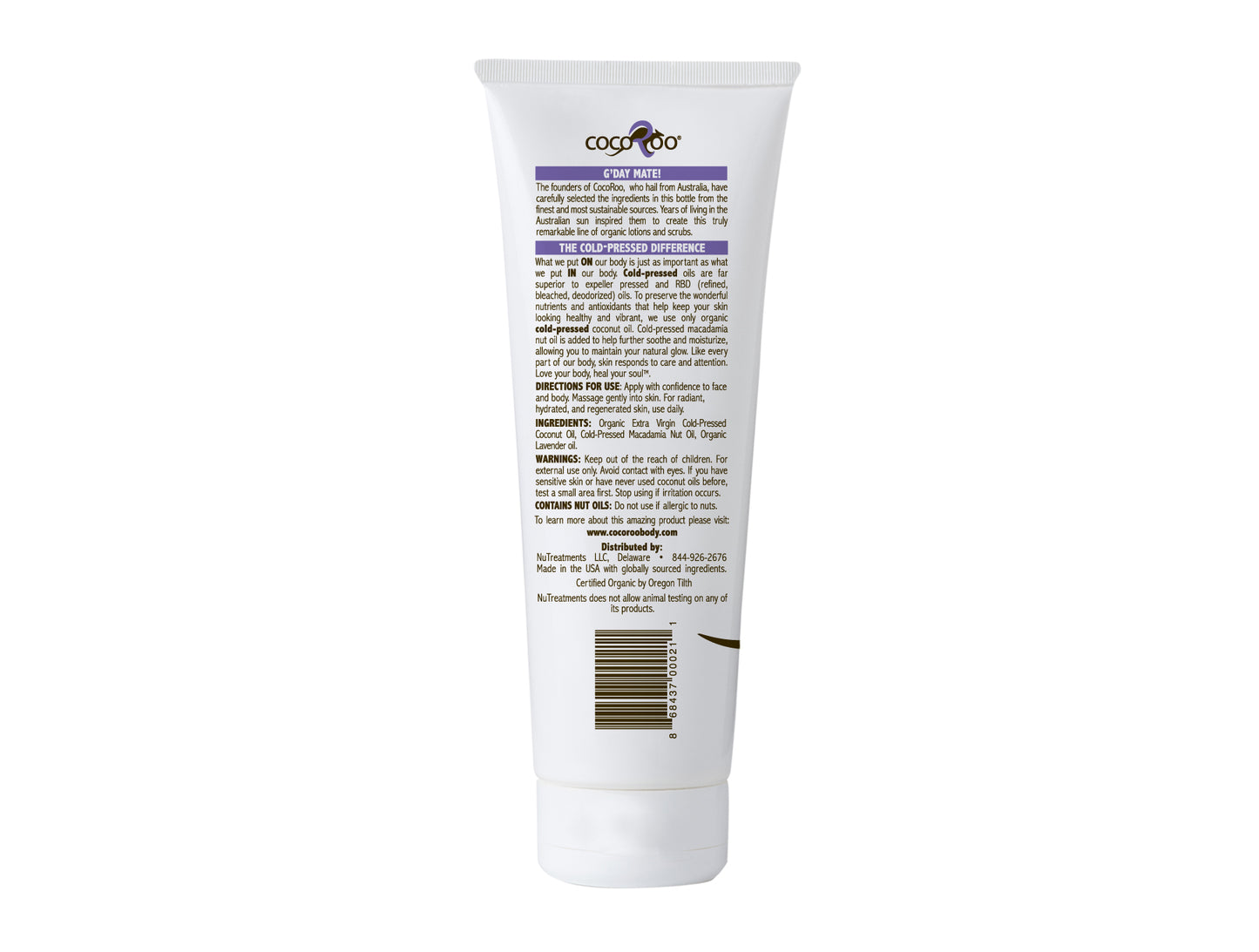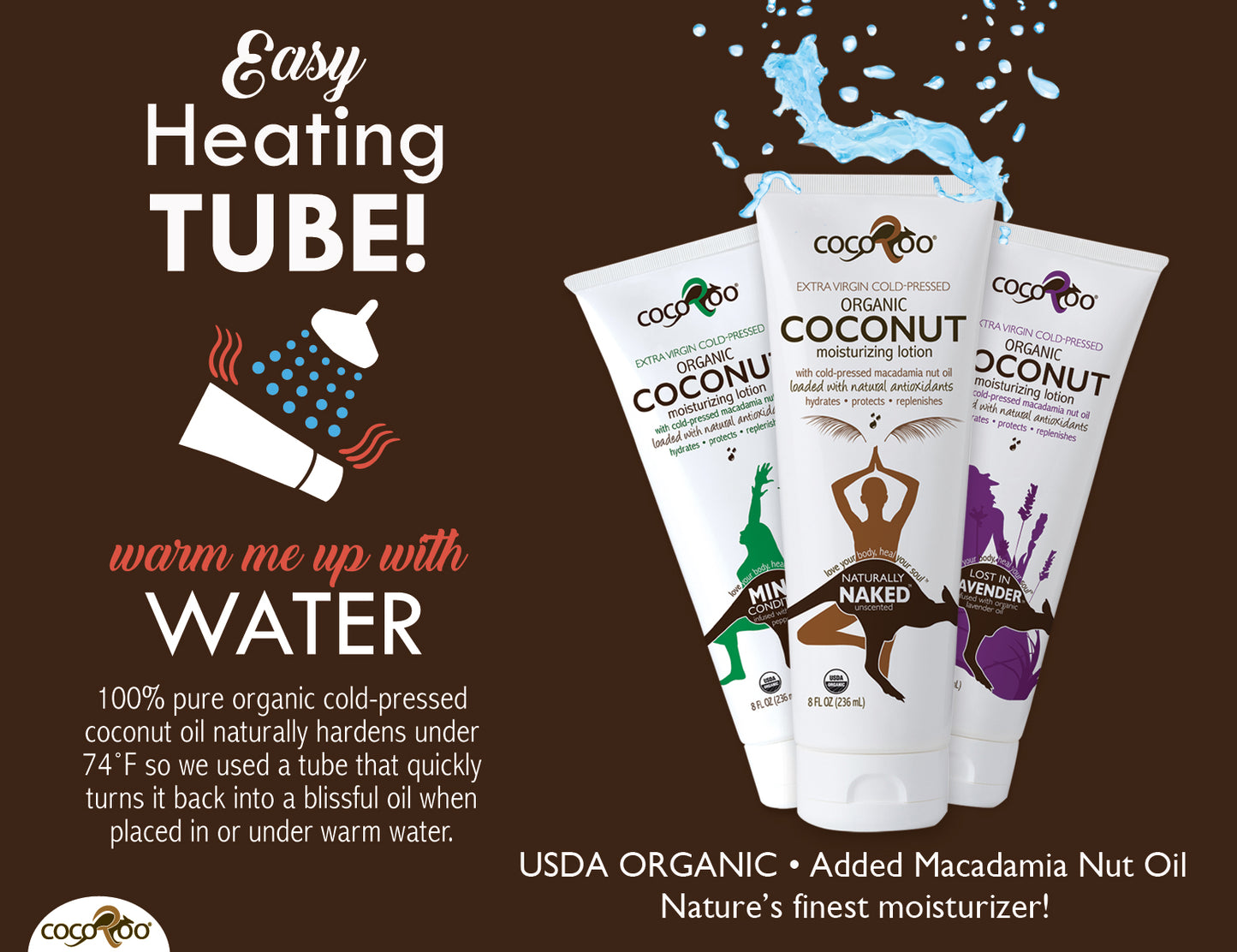 7 in 1 is a Face Changer
Last weekend, I stopped at CocoRoo's booth at the farmer's market in Clearlake, IA. Have since learned it was James who explained the skincare products. All I knew he was def Australian 🦘. I asked if 7 in 1 would help broken capillaries? 'Ya know the tiny spider veins that show up overnight on cheeks and under noses. I can't be the only one, right? Back home, I began using the serum and YES, it lightened them on my face in a matter of two to three days. Now, five days later, even lighter! It may be my imagination, but I think not. My face has a glow that I haven't since in years. I will be a repeat customer for what feels like a magic potion!
New favorite!
I found this lotion at my local farmers market and my son and I love it! He has sensitive skin and he ask to put it in every night before bed. I love using a small amount on my face and lips, it also helped with a recent sunburn I got on vacation.
Lost in Lavender
I love this lotion. It smells great and it has been such an incredible moisturizer for me. LOVE IT
My favorite
I'm a huge fan of Lavender and this moisturizer hits the mark. The scent is not over powering but it's there long enough to be relaxing and seriously pleasant. As I mentioned before, I'm not fond of the packaging, as plastic just sits for years but hopefully you are looking into something more eco friendly. I will stick around as a customer because the coconut oil seems to be very high quality and works wonderfully on my skin.
Life changing!
I love this product! I suffer from dry skin and hives (from seasonal allergies😕) but this product soothes my skin! I love how versatile it is and the lavender scent is so relaxing!