CocoRoo Natural Skin Care
Regular price
Sale price
$13.95 USD
Unit price
per
Sale
Sold out
Calming, Soothing, & Balancing
Lavender & Clary Sage
Uplift your mood and fill the room with positive energy.  Treat your mind, body & soul to CocoRoo's Aromatherapy Mood Mist.   
RELAX is a soothing and balancing combination of Lavender and Clary Sage Organic Essential Oils.
Lavender is popular for its calming and stress relieving properties  It has also been used to reduce anxiety, improve mood and promote sleep.  Clary Sage has the ability to induce feelings of joy, confidence and happiness.
Pink Himalayan Salt is packed with trace minerals that make it incredibly nourishing for your skin and the air.  It is a natural ionizer that creates healing and good energy in your home and life.
Freshen your home, office, car, camper or linen and create calm and serene surroundings.  
______________________________________________________________________________________
For best results, shake well, hold the bottle upright and spray with confidence into the air as required to create a relaxing atmosphere. 
Enjoy freshness in every breath you take.  Spray your face covering with this all-natural mist for a quick "refresh" throughout the day.    
For an extra mood boost, close your eyes and spray on your face (6 inches away).  Spritz throughout the day and anytime you need a burst of bliss.
_______________________________________________________________
Ingredients:  Distilled Water, Pink Himalayan Salt, Organic Coconut Oil, Organic Lavender Essential Oil, Organic Clary Sage Essential Oil
3.4 fl oz
View full details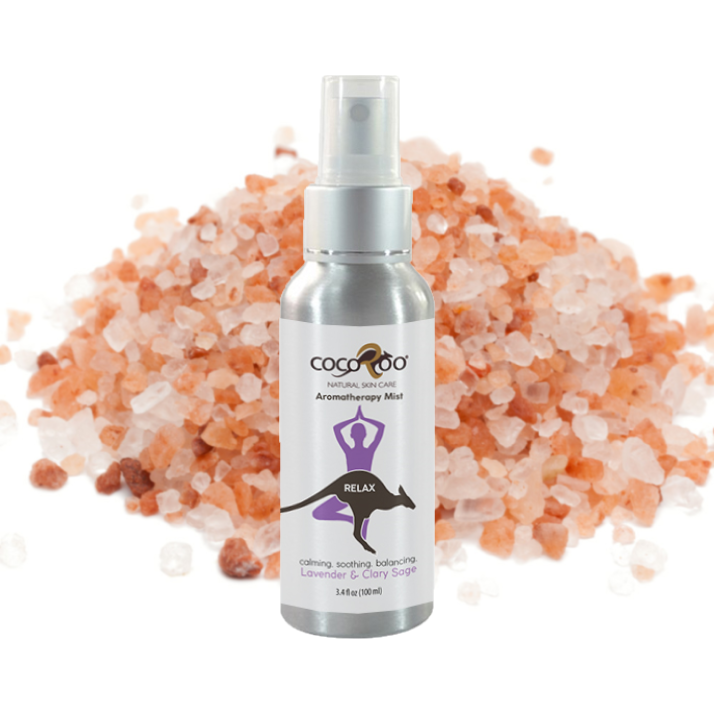 So far so good
I purchased the Relax mist to help me sleep. It doesn't necessarily help me sleep but does put me in a calm mood and makes me feel comfy, if that makes sense. It's not over powering and I like the way it smells. Love the recyclable or reusable bottle it comes in. I've sprayed it in the air and on linen but haven't tried it on my skin yet. I know it's all natural ingredients but I want to check with my dermatologist before I use it that way. The scent doesn't last very long after spraying but for my preferences, that's perfect. I'm very happy with my purchase and will be a returning customer.